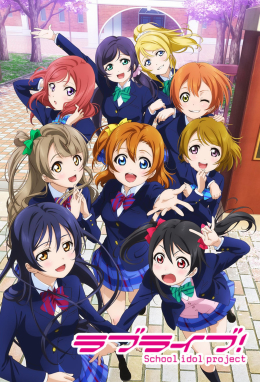 Love Live: School Idol Project
Release:
01/06/2013–06/29/2014
(anime & ova)
, 06/13/2015
(film)
Demographic:
seinen
Genre(s):
idol, comedy, slice of life
Links:
anime Wikipedia page
,
movie Wikipedia page

Anime
While the first season is a very fun romp watching the girls save their school with not too much serious going on other than that pressure, the second season really picks up. Quite a few episodes deep dive into the girls, my favorites being the Nico, Rin, and Nozomi (&Eli) centric episodes. I'm not usually a crier, but something about these idol girls really got to me! The build up of them working through their issues and coming together as µ's (pronounced "muse") then debuting Snow Halation really had me invested and rooting for their victory over A-RISE. The overarching end of µ's made it even easier to want nothing more than for them to achieve their goals, for the third years to have such a momentus show before they're gone. I'm a weak man, I can't lie to you and say I wasn't crying when they obviously won.
OVA
The OVA was truly 15 minutes of absolute confusion and chaos, if I'm totally honest. It's release is nestled right in between seasons one & two of the anime, though according to the Love Live Fan Wiki, it's actual continuity should be inbetween episodes three (The Door to Our Dreams) and four (No. 1 Idol in the Universe) of season two.
From my vague understanding, the OVA is meant to be a dream of Maki's? Or a nightmare, or... something...? I thought it was fun at least and Maki admitting she's always loved the other girls is really sweet, but other than that it's a bit of an overblown lead up to the Music S.T.A.R.T!! music video debut.
Film
I'm writing most of this about 10 minutes after finishing the movie and I'm still a little teary eyed! With the goal of helping get Love Live!'s third competition held in the Tokyo Dome, µ's postpones their disbandment to head to New York City in order to get more traction for school idols everywhere. Due to their live performance of Angelic Angel going so well they become bonafide celebrities back in Japan. This spawns even more stress over the inevitable disbandment of µ's, now that their support reaches far wider than their school or Akihabara. Dealing with their newfound fame and the decision to disband or continue as non-school idols, Honoka decides they should host one last hoorah; a concert to promote all school idols, causing the girls to tour Japan and invite school idol groups everywhere to join. Their performance of SUNNY DAY SONG, a song for all school idols, is a sucess and µ's officially disbands now that their senior members are graduated. At the very end of the movie the girls are shown performing 僕たちはひとつの光 (Bokutachi wa Hitotsu no Hikari / We Are A Single Light) at assumedly the 3rd Love Live! as a revival performance for helping it get to the Tokyo Dome.
There's two particularly interesting subplots, Eli's sister wanting to join µ's when she gets into Otonokizaka High School and Honoka's connection with a mysterious street performer she met in New York City. The first is what adds strain to Honoka's decision to disband µ's, because as much as she loves Alisa's enthusiasm, is µ's really µ's if it's not the nine of them? The answer by the end of the the movie is a resounding no. In the end, after she discusses it with Yukiho, Honoka's sister, Alisa realizes she doesn't need to be part of µ's to forge her own path as a school idol and chooses to form a new group with Yukiho. The end of the movie shows the two younger sisters as third years, leading a new group of freshman in the Idol Research Club. The second subplot is what helps Honoka come to terms with the end of µ's when the street performer comes to her in a dream back in Japan, reiterating the famous Love Live! bird motif born from µ's' first ever song, START:DASH!!.
Even baby birds swaddled in down
Will someday flap their wings and take to the sky
They'll soar up high with wings that grow big and strong
With this, mimicking the start of the movie with Honoka, Umi, and Kotori as children trying to jump over a puddle, Honoka is able to jump over the lake in her dream, a metaphor for her being able to move on after achieving her goal of saving Otonokizaka High School and winning Love Live! with µ's. There are theories that the unnamed street performer was Honoka from the future, due to their similar looks and behaviors, and I think this dream solidifies it. She was also once in a group she loved that disbanded once they reached their goal and, I think, she could've been what Honoka wants to be in the future, able to move past µ's, but still remember their time as school idols with fondness.
It's a really moving film! I teared up again when I came to finish this section now the night after. The film even ending with a feather falling on Honoka's training t-shirt, with her iconic "ほ" emblazoned on the front, just gets to me. The story of Love Live! and µ's especially has lit a fire and passion in me for these fictional school idols and I couldn't be happier.
While this story focuses solely around µ's, there's quite a lot more Love Live anime for me to get through and I'm very excited! I am a huge Love Live fan at the moment, I started with the newest mobile game, Love Live! School Idol Festival ALL STARS, so it's a real pleasure to learn the original girls' origins! My µ's oshis are Nico Yazawa, Nozomi Tojo, Maki Nishikino, and Rin Hoshizora. My favorite subunit is lily white.
> Written 11/23/22 - 11/24/22